Another exciting whalewatch season is drawing to an end here in Hervey Bay, Australia. It has been a productive time for our Researchers-on-Board as we have continued to collect photo-identification data and educate our guests on the importance of the research upon which Pacific Whale Foundation has built its legacy.

From the beginning of the whalewatch season on July 15 through September 30, Ocean Defender has embarked on 96 whalewatches, which have served as platforms for our researchers to collect photos and observational data from the humpback whales.  Those trips have taken us a total of 3,767 nautical miles to encounter 402 pods of humpback whales. The researchers double as Marine Naturalists on these trips, engaging the public as part of our internationally recognized model of responsible whalewatching.
After photographs and data are collected in the field by our team in Australia, the dedicated research staff at our Maui headquarters analyzes and catalogs it, adding to our ever-expanding knowledge of these humpback whales. This season has yielded over 1,300 photos and some interesting additions to our South Pacific humpback whale catalog.
Our Research Department has added 18 new individual humpback whales from this whalewatching season to our catalog, which currently contains approximately 6,000 individual whales from several habitat areas.
Three humpback whales seen during the 2017 season were matched to our catalog: #3586, #2177,  and #0680. Whale #3586 was first sighted in 2006 before being sighted again in 2008 and 2017. Whale #2177, a female, was first sighted in 1999, seen with her calf in 2007, and seen without a calf in 2008, 2010, and 2017. Whale #0680, named "Uluru", is one of our adoption animals, and she has had a calf for all of her sightings: 1989, 1993, 1995, 2006, and 2017.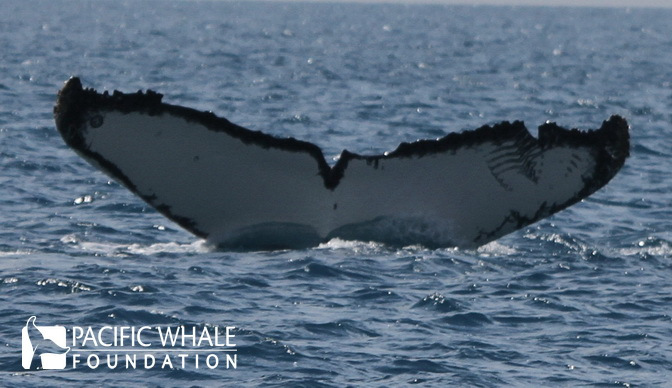 Each individual added to the catalog or re-sighted provides us with more information that we can use to learn about these whales' migrations, breeding characteristics, and life histories. Hervey Bay represents a unique habitat as a migratory stopover, and our researchers are interested in determining how humpback whales, especially mothers with calves, use this area. Pacific Whale Foundation additionally invites you to participate in our research as a citizen scientist. Whether you would like to submit your own fluke photos or assist in analyzing humpback whale photo-ID images with Match My Whale, we invite you to help with this exciting and important research project.